Flyer
The Adaptation Fund NGO Network
Supporting the most vulnerable to climate change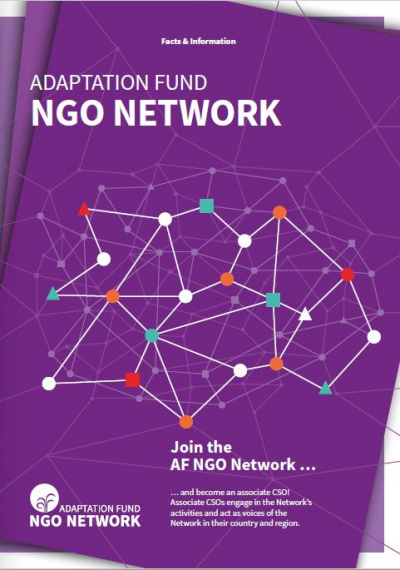 We are a global coalition of more than 250 associate CSOs focussing on the Adaptation Fund. Our aim is to support the most vulnerable to climate change and ensure they benefit from the Adaptation Fund.
To achieve this we work to make the Fund more transparent and participative promoting the effective engagement of civil society and owner-ship of local stakeholders.
This is why we monitor the implementation of the Adaptation Fund's projects; we draft policy recommendations for the Fund's Board; and we provide independent on-the-ground insights on the Fund's activities in your country.
Our membership is open to all interested stakeholders from global civil society. However, with the Fund implementing its adaptation action in developing countries, the Network relies particularly on the input of CSOs from the Global South. That is also why we jointly strive to raise the awareness of CSOs in your country on the Adaptation Fund.
Making the Adaptation Fund work for the most vulnerable communities will need the input and engagement of global civil society!
- please download / open PDF-file below for full information -