News AFN
First Steps for Women's Organizations to engage with the Adaptation Fund
Webinar on July 8th at 13:00 PM GMT.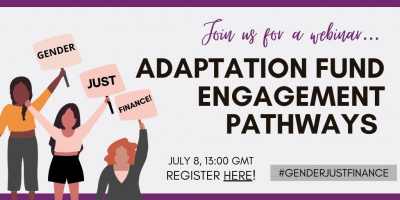 The Women's Environment & Development Organisation (WEDO) is inviting you to a webinar to explore a new brief, which WEDO will launch that day: Engaging with the Adaptation Fund: First Steps for Women's Organizations.
Climate finance should flow to women's organizations, gender-related groups, and feminist organizations working at the intersection of gender equality and climate change. Building on WEDO's work with Prospera, the International Network of Women's Funds, last year, on engagement across the four primary climate funds, WEDO has been working on a new brief to update the information and opportunities for engaging with the Adaptation Fund.
In addition to presenting these pathways, the webinar will feature the Adaptation Fund's Young Hee Lee, Governance Specialist, and Cristina Dengel, Knowledge Management Officer, to share information on how the Fund works and ways to better understand the Fund, as well as answer your questions. Register here!