Blog post
Learning from each other in the Community Adaptation Small Grants Facility project (South Africa)
Blog post by Elin Lorimer, Indigo development & change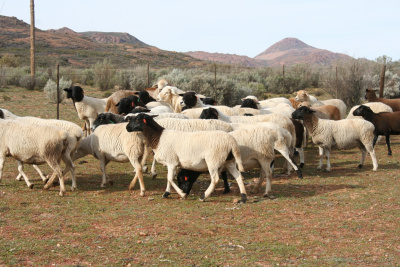 South Africa's Community Adaptation Small Grants Facility Project, funded under the Adaptation Fund, is drawing to a close, and has surfaced valuable lessons about implementing "enhanced direct access" mechanisms and making adaptation funding available at the local level. Project participants, including the 12 small grant recipients, met recently at an inter-district learning event to share their experiences. Indigo development and change, as a core member of the AF NGO Network, participated in the learning event, and would like to share some of these learnings with the broader international CSO community and decision makers working on climate change adaptation.
In the arid Namaqua region of South Africa, a group of farmers are shifting to using indigenous and semi-indigenous livestock that are better able to cope with extreme conditions. Non-profit organisation, Gondwana Alive, has partnered with the Biodiversity and Red Meat Co-operative (BRC) for this initiative and are working with local farmers to adapt livestock farming and grazing practices to suit changing climate conditions in a sustainable fashion. Farmers are also experimenting with using mobile livestock enclosures to combat soil erosion and overgrazing.
Sheep farming is an important livelihood for small-scale farmers in the Namakwa region in South Africa.
 
Tsogang Water & Sanitation, a non-profit organisation based in the Mopani District, has worked with the Ga-Ntata village community to refurbish local earth dams to increase their rainwater harvesting storage capacity and install household rainwater harvesting systems, in combination with support for organic backyard gardening. Tsogang combined this intervention with capacity building for local Water Committees to respond to water and environmental challenges facing the community. Also based in Mopani, local company Exilite, in partnership with Vuhehli Drop in Centre, has developed a climate-smart vegetable garden and nursery at an after-care centre for orphaned and vulnerable children. The project is also piloting the use of bioslurry as a natural fertiliser for the produce. The project has combined the nursery with rainwater harvesting infrastructure, a biogas digester, charcoal cooler, and hot house to provide both food and income to support local community members, the drop-in centre and the children they care for. 
Taking adaptation to the ground – the Community Adaptation Small Grant Facility
These are just a few examples from the 12 local adaptation projects selected as part of a pilot small granting programme in South Africa, funded through the Adaptation Fund. The project, "Taking adaptation to the ground: a small grants facility for enabling local level responses to climate change", also known as the "Community Adaptation Small Grant Facility (SGF) project", received a grant of USD 2,442,682 to provide grants of approximately R1 million each to community project in the Namakwa and Mopani district municipalities.
The South African National Biodiversity Institute (SANBI) acts as South Africa's National Implementing Entity to the Adaptation Fund for this project, which is executed by the SouthSouthNorth Trust. The SGF is piloting the implementation of an "Enhanced Direct Access" mechanism, whereby climate finance is not only programmed at the national level, but appropriate adaptation measures may be selected at a local level.
The AF NGO Network aims to feed the project's key learnings into the broader international adaptation community
At this stage of the Community Adaptation Small Grant Facility (SGF) project, which is now nearing completion, all the grant recipients have tangible projects and experiences to share. In early June of 2019, small grant recipients from the two regions and the SGF project partners came together in Johannesburg at an inter-district learning workshop. The intention of the event was to jointly draw out lessons learned and best practices from the SGF project. On behalf of the Adaptation Fund NGO Network, Indigo development & change participated in an observer role at this workshop, aiming to assist in identifying key learnings from the project to feed into the project's learning programme and to the broader adaptation community as a core member of the Adaptation Fund NGO Network.
Participants from the Community Adaptation Small Grants Facility (SGF) Inter-District Learning Workshop.
 
Water emerged as a central theme running through the projects, as climate projections in both areas indicate this commodity will become more scarce in the future. The projects were developed to respond to one or more of the SGF's three investment windows of "Climate Smart Agriculture"; "Climate Resilient Livelihoods" and "Climate Proof Settlements". The projects included several community garden and small-scale agriculture projects focused on enabling more sustainable farming practices for drier and hotter conditions, often incorporating water storage components or mechanisms for maintaining soil moisture. Helping communities cope with increasing temperatures was also a common adaptation requirement, particularly in the Namakwa region, and included actions such as installing domestic ceiling insulation and investing in improved shelters for seasonally migrating livestock farmers.  Two of the more novel projects included a project supporting a local savings group, and a project with local small-scale fishermen to improve their safety and emergency response systems.
Short-term granting is a challenge for project sustainability
Sustainability was clearly a challenge for such short-term projects receiving once-off grants, and each grant recipient had to consider how to sustain the benefits to their communities beyond the project duration. Grant recipients noted that changing behaviour took time and could not be achieved by a quick demonstration of a new methodology. Suggestions for improving the sustainability of local adaptation projects included involving government institutions early on and linking to ongoing policy processes, planning for ongoing maintenance through community savings and training, and networking with other organisations to spread and sustain project benefits.
Grant recipients noted that receiving climate funding came with its own complexities. Complying with the strict compliance and reporting requirements of the SGF project was demanding for small local organisations. Ways to ease this burden were brainstormed by workshop participants and solutions included simplifying approval processes, limiting bureaucracy, and allowing some flexibility to grant recipients in their project implementation.
Some of the challenges faced in this project were beyond the control of grant recipients, as some governmental processes necessary for grant recipients to meet their compliance requirements were convoluted and lengthy. A key example related to the prolonged period of time it took to obtain water-use licences and building approvals, making it difficult to fit in with the funder's timeframes. Grant recipients also noted that with a short project duration, any delays in project approvals or the approval of changes resulted in very tight timeframes for them to complete their work.
Up-front capacity support for small grant recipients
The project developers had identified up front that there was a lack of sufficient institutional and technical capacity in local organisations for record keeping, financial management and climate change adaptation. This led to the inclusion of a "Facilitating Agency" in each region to assist small grant recipients with their project development, reporting requirements and capacity building. This support was noted as essential for the success of the project, but requires adequate funding to successfully support such local adaptation projects. Workshop participants highlighted that some of this support should ideally take place prior to the project start, and that the project design phase therefore requires adequate time and resourcing.
Where to next?
This learning workshop not only highlighted what worked and what didn't in the Community Adaptation SGF project, but also started to look at the "Where to next?" question, and what could be improved if the small grants programme were to be upscaled in future. South Africa has reached the temporary country cap of USD 10 million that it can currently access from the Adaptation Fund, given the limited funding available through this mechanism. While there is some hope that this country cap may be lifted in the near future, South Africa would in all likelihood need to look elsewhere to access scale-up funding to take the pilot programme to the next level of implementation. SANBI is now accredited to the Green Climate Fund, currently the major source of climate funding, but accessing this funding will no doubt come with its own challenges in developing the scale of project this fund requires, and in meeting a new set of compliance and reporting requirements.
---
More information on the Community Adaptation SGF Project is available from the Executing Entity, SouthSouthNorth.