Blog post
Kenya's 1 Billion Shillings Adaptation Fund Project
Blog post by Psamson Nzioki, Transparency International Kenya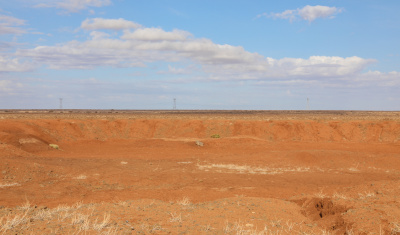 Marsabit County: Harsh climatic conditions and barren land are an indication of increasing impacts of climate change
Impacts of climate change continue to increase in magnitude and frequency. This is why financial support becomes increasingly important to reduce vulnerability and build resilience of communities in Kenya against these impacts. The Adaptation Fund has been instrumental in supporting interventions that help communities to cushion the impacts of climate change. In Marsabit County, communities are being supported to grow drought resistant crops which help alleviate food insecurity and boost livelihoods. Communities in Kwale are establishing mangrove tree nurseries that help rehabilitate the coastal ecosystem while protecting coral reefs. Communities in the Nyando river basin benefit from flood management and early warning systems. However, some challenges have been observed.
Delays in project inception and disbursement of funds
The 1 billion shilling Kenyan programme on adaptation to climate change was approved in October 2014 by the Adaptation Fund Board. Kenya managed to directly access the Fund's resources through its accredited National Implementing Entity (NIE) - the National Environment Management Authority (NEMA). The programme was meant to start in July 2014 and to be finalized in July 2017 with a mid-term review in December 2015 and a terminal evaluation scheduled for September 2017. However, conflict between the provisions of the Kenyan Public Finance Management Act, 2012 which prohibit a public entity from directly receiving external resources, and the Adaptation Fund's policies which require the Fund's implementing entities to receive the funds directly, occasioned a significant delay that pushed the start of the programme to January 2016. Additionally, there were significant delays in disbursement of funds to the Executing Entities (EEs). This was partly occasioned by the signing of contracts between the NIE and the EEs. The initial contracts signed neither had the date of signing nor the contract amount.
Budget transparency in regards to disclosure of the specific allocations for the Executing and Sub-Executing Entities is not publicly available even after the realignments done. This could hinder effective independent tracking and monitoring. Though the budget realignments may be justifiable, the revised budgets are not publicly available on the NEMA nor the Adaptation Fund's websites. Also lacking is disclosure of the contract agreements between the Adaptation Fund and NEMA on one level and the local level contracts between NEMA and the Executing Entities and those between the Executing Entities and Sub-Executing Entities.
Limited public awareness on the programme
Public awareness on the programme remains minimal countrywide. Many stakeholders especially Civil Society Organizations (CSOs) and communities are not appraised of the programme including its structure, objectives and progress. Also lacking is information on specific responsibility and working areas for 10 institutions implementing the programme (EEs) which are Kenya Forestry Research institute (KEFRI), Tana & Athi Rivers Development Authority (TARDA) and Coast Development Authority (CDA) – and 7 Sub-Executing Entities - CARITAS, NASARU Women Group, Kenyatta University, ADRA Kenya, Horn Aid, VIRED International and Kenya Red Cross). World Vision was one of the EEs but later pulled out due to delays in disbursement of funds and budget changes. More information needs to be made publicly available to enhance accountability and transparency in the programme. This is a shared responsibility by all institutions involved in implementation of the programme.
Limited effectiveness of the National Programme Steering Committee
NEMA set up a multi-stakeholder National Programme Steering Committee chaired by the Principle Secretary in the Ministry of Environment and Forestry as the highest governing body for the Adaptation Fund programme in the country. While this was a noble idea, the Committee has only met once in the lifetime of the current programme reigning uncertainty on its effectiveness in the entire governance framework of the programme and on its ability to provide oversight in implementation of the programme and extend policy guidance.
Absence of Project Performance Reports
There exists a conspicuous absence of Project/Programme Performance Reports (PPRs) for the Kenya programme. While the Adaptation Fund requires its implementing entities to submit a PPR every year for the duration of project/programme implementation, only one PPR is available for the Kenyan programme which was submitted in 2018. Notably, the PPR identifies governance and operational challenges and lessons learnt which should be addressed and serve as a basis for strengthening systems and approaches and ensuring timely implementation and that communities are safeguarded from potential negative impacts.
The programme dubbed "Integrated Programme to Build Resilience to Climate Change & Adaptive Capacity of Vulnerable Communities in Kenya", seeks to enhance resilience and adaptive capacity to climate change for selected communities in various Counties in Kenya in order to improve food security and environmental management. According to the project document available on the Adaptation Fund website, the programme comprises of 5 components: food security; water management; coastal management; disaster risk reduction and knowledge management.  With a total financing of USD 9,998,302 (KES 1 Billion), the total execution cost is capped at USD 804,948 (KES 81 Million), total programme cost at USD 8,473,137 (KES 856 Million) and USD 720,217 (KES 72 Million) is set aside as the implementing fee. Initially set to be implemented in 18 counties (Kajiado, Homabay, Laikipia, Wajir, Garissa, Tana River, Kitui, Makueni, Kiambu, Meru, Machakos, Marsabit, Kisumu, Kwale, Kilifi, Taita Taveta, Mombasa and Lamu) , information from NEMA indicates that it is being rolled out in 14 counties only.
Beneficiaries should be engaged in a participatory monitoring
Kenya identifies adaptation as its priority intervention to addressing climate change. Implementing adaptation interventions requires mobilization of financial resources to actualize. Utilization of adaptation finances requires high levels of transparency, accountability and integrity to ensure that the envisioned interventions are effective in reducing vulnerabilities and enhancing adaptive capacities of vulnerable communities. Upon completion of the programme, the beneficiaries should be engaged in a participatory monitoring and evaluation of the programme to assess its effectiveness and impact on their vulnerability and adaptive capacity.
---
About Transparency International Kenya (TI-Kenya)
TI-Kenya has been an associate CSO of the AF NGO Network since 2016. Founded in 1999 in Kenya, TI-Kenya is a not-for-profit organization with the aim of developing a transparent and corruption-free society through good governance and social justice initiatives. TI-Kenya is one of the autonomous chapters of the global Transparency International movement that is bound by a common vision of a corruption-free world. One area of action of the organization is to work with public institutions to strengthen climate finance governance.
The author of this article, Psamson Nzioki, is Deputy Programme Officer of the Climate Governance Integrity Programme at TI-Kenya.