Paper
Tracking Adaptation: Not An Easy Task
Experiences made by four AFN partner organizations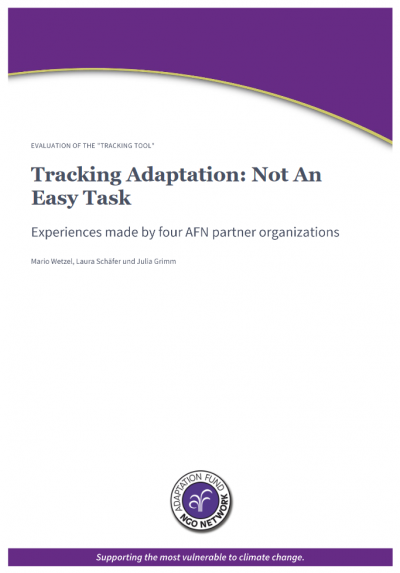 In the context of the Adaptation Fund NGO Network a Tracking Tool was developed in order to provide an instrument to assess a country's current state of adaptation policies and frameworks regarding interplay and good adaptation.
This paper not only provides a synopsis of the first four tracking results generated with the tool, but also insights on challenges and opportunities connected to the use of the Tracking Tool.
Ultimately, this paper aims to show how the Tracking Tool can be modified and alternatively used in terms of generated data with the objective to enhance the international architecture for climate change adaptation to better assist the most vulnerable communities in adapting to the increasing adverse impacts of climate change.
Author(s)
Mario Wetzel, Laura Schäfer and Julia Grimm
Contact
Real name
Germanwatch | Policy Officer - Climate Risk Management