Paper
Innovative Financing for the Adaptation Fund: Pathways and Potentials
By NewClimate Institute & Germanwatch e.V.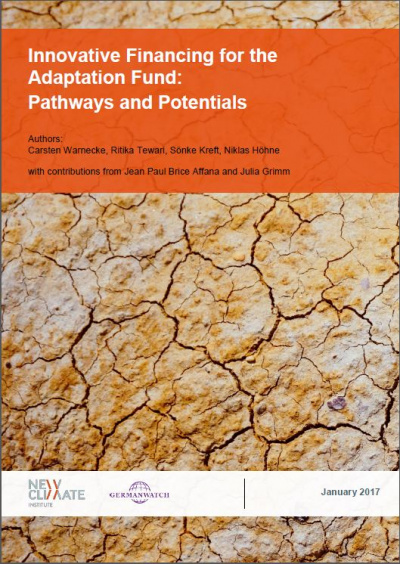 The Adaptation Fund has emerged as an important body in the multilateral adaptation finance landscape. It has pioneered novel approaches such as direct access, has streamlined project cycles to allow participation of small institutions and holds an impressive track-record of delivering results-based adaptation finance. Demand for its services is high among vulnerable developing countries. Continued interest was clearly visible during COP 22, where Parties showed willingness to carve a role for this Kyoto Protocol climate fund under the Paris Agreement. However, this potential is constrained by a continuous resource crunch in the Fund after its primary revenue source – a 2% share of proceeds levy from mitigation projects registered under the Clean Development Mechanism (CDM) - dried up. The resulting revenue gap has been partially covered by donor contributions to the fund. Since such contributions are limited and come with vagaries on their own, the access to innovative finance sources needs to be restated to meet countries' continuous and growing adaptation needs. With this background in mind, this study follows the history and experiences of the CDM levy and focusses on options deriving from different carbon pricing instruments and approaches.
This study aims to provide analytical support to the Adaptation Fund in charting a way forward to explore which adaptation finance mechanisms exist and can be pursued to meet its immediate and future financing needs. Seven innovative finance options are assessed for their climate finance potential using a multi-criteria assessment approach.
---
Supported by: Federal Ministry for the Environment, Nature Conservation, Building and Nuclear Safety
The views and assumptions expressed in this report represent the views of the authors and not necessarily those of the IKI or the BMUB.
Author(s)
Carsten Warnecke, Ritika Tewari, Sönke Kreft, Niklas Höhne