Briefing Paper
Critical Interventions
Learning from Experiences of the Adaptation Fund NGO Network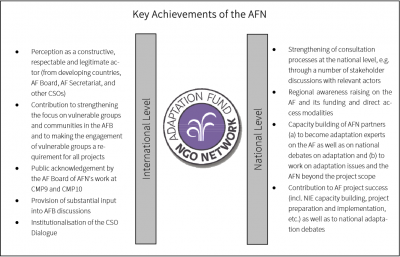 With a volume of nearly USD 470 million the Adaptation Fund (AF) has significantly shaped and advanced the implementation of climate change adaptation in almost 50 developing countries, particularly as direct access modalities have strengthened ownership and built capacities in those countries.

For a holistic implementation of adaptation actions that serve the needs of the most vulnerable groups and populations to the impacts of climate change, an independent non-governmental accompaniment can be very valuable. It can help to bridge the different interests in the project implementation and bring a reality-check to decision makers in international funding institutions such as the GCF. At the same time it can hold national governments accountable to their adaptation efforts and contribute to shaping the project towards resilience building and transformative outcomes.

This paper has been produced with the intention to illustrate lessons and experiences of such an independent initiative of non-governmental actors that have been following the implementation of adaptation projects financed by the Adaptation Fund in ten countries.1 In a critical and constructive manner the civil society actors of the Adaptation Fund NGO Network (AFN) have achieved some good results in the past five years.